Where performance is measured, performance improves.
When kids come and shoot with us we track every shot, every make and every miss. We have 13 different drills that we do throughout each month. We keep stats on each drill so kids can always be challenged to beat their best scores. Since we take stats on every drill that we do, kids can see their improvements.
Top Ten gives us an opportunity to recognize kids for their successes and improvements. On a weekly basis we do a Top Ten for two different age groups, grades 3rd-8th and 9th-12th. By doing this it gives kids the ability to compete every week. Kids love to compete, so this gives them a forum to be driven and to improve each week.
We have put in place twice a year a semi-annual award ceremony where we take all of the stats for the last six months and do overall top tens in each category.
These are the current Top Tens for the last semi-annual awards ceremony.
Free Throw %
3rd – 8th
Will Harris 84.05%
Berkley Heileson 80.13%
Cole Kelley 79.78%
Hunter Ropelato 79.09%
Lilo Allen 78.68%
Kaleb Hotchkiss 78.64%
Collin Chandler 78.19%
Nathaniel Lowe 77.94%
Tyler Hancock 77.81%
Ryan Hunt 77.55%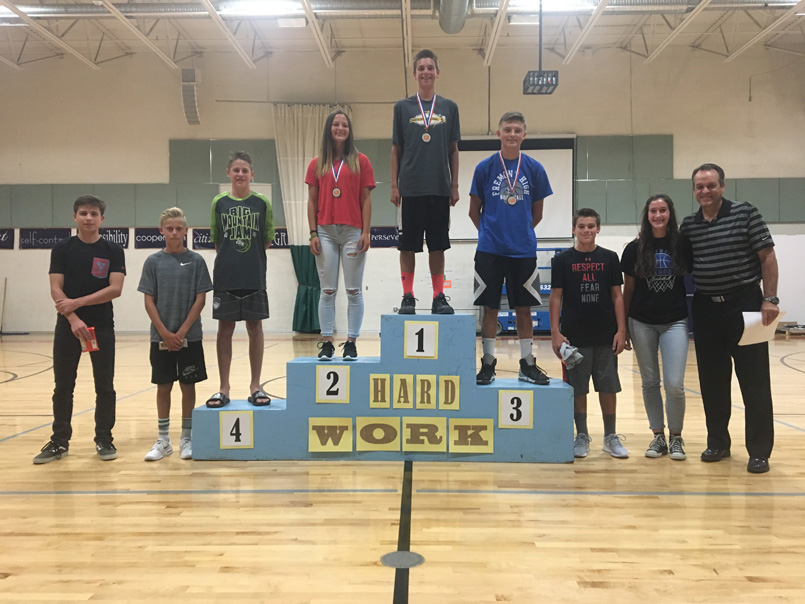 9th – 12th
J.D. Ahlstrom 94.47%
Josh Sanders 93.56%
Lisa Blazzard 92.36%
Blake Robinson 91.53%
Jake Pincock 89.13%
David Nickerson 88.56%
Dax Pedersen 86.31%
Josh Molen 86.07%
Grant Knight 85.83%
*10 Sariah Jones 85%
*10 Nick Jensen 85%
*10 Zach Hotchkiss 85%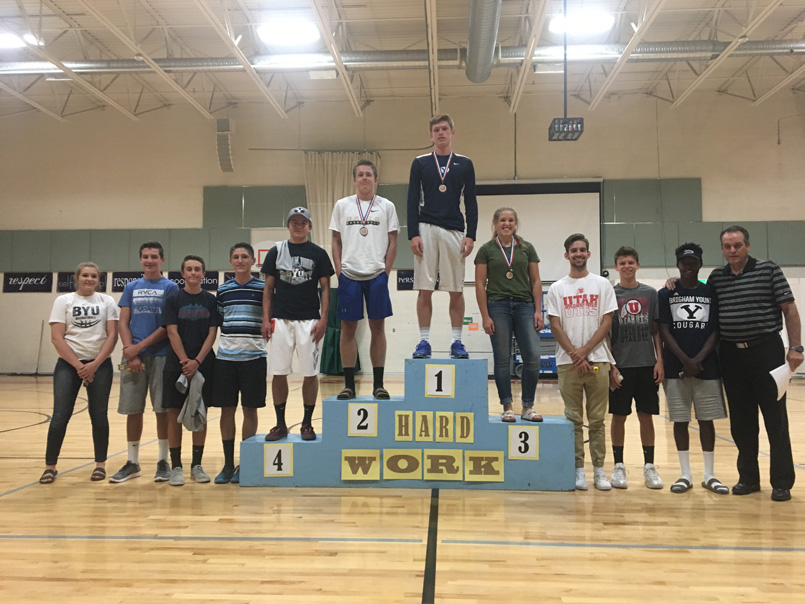 ---
18 Spot %
3rd – 8th
Hunter Ropelato 82.8%
Landon Wellman 82.45%
Collin Chandler 82%
Tyler Hancock 81.5%
Nathaniel Lowe 81.43%
Cole Kelley 80.84%
Taft Miles 80.36%
Andie Thomas 79.6%
Josh Davis 79.39%
Lilo Allen 79.2%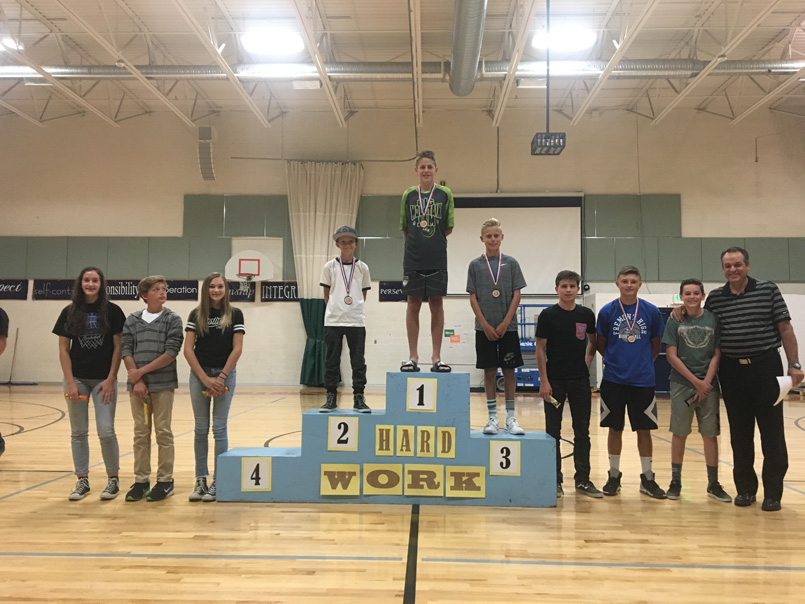 9th – 12th
J.D. Ahlstrom 87.21%
Josh Sanders 85.88%
David Nickerson 85.80%
Jake Pincock 84.92%
Caden Heaton 84.90%
Jaci Jensen 84%
Blake Robinson 82.67%
Lisa Blazzard 81.54%
Jonah Nielsen 81.50%
*10 Ethan Bosshardt 80%
*10 Mindy Hunt 80%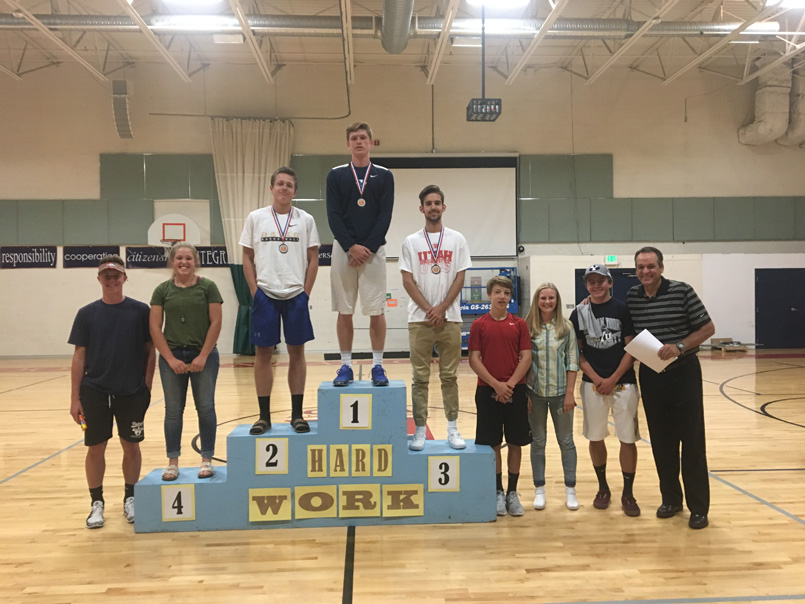 ---
Dribble Drive %
3rd – 8th
Landon Wellman 84.75%
Collin Chandler 81%
Nathaniel Lowe 79.81%
Tyler Hancock 79.8%
Levi Rentmeister 76.4%
Taft Miles 76.17%
Hunter Ropelato 75.25%
Max Jarnagin 74.4%
Corbin Canfield 73.67%
Garet Rentmeister 73.6%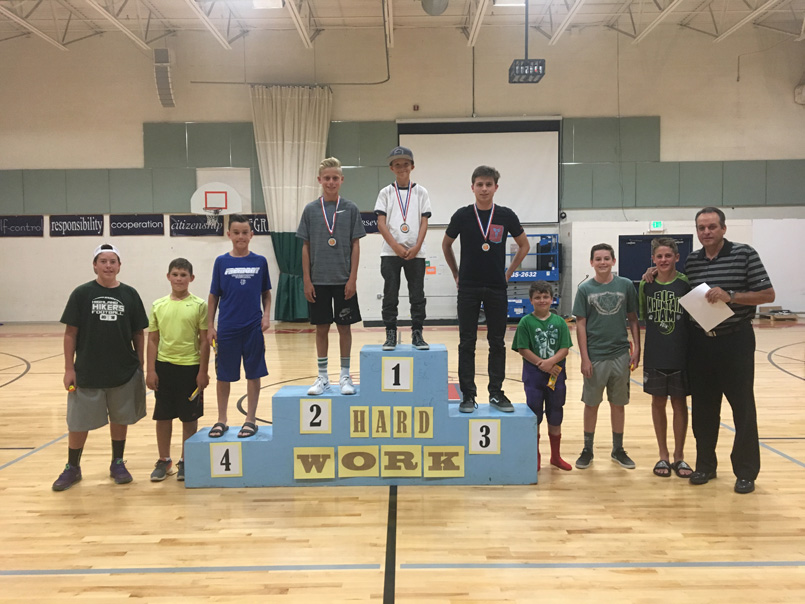 9th – 12th
Josh Sanders 83.5%
Josh Favila 82.25%
Jake Pincock 81.75%
David Nickerson 81.43
J.D. Ahlstrom 80.75%
Ethan Bosshardt 80.43%
Josh Molen 79.5%
Dax 78.86%
Jaci Jensen 77.8%
Jonah Nielsen 77.67%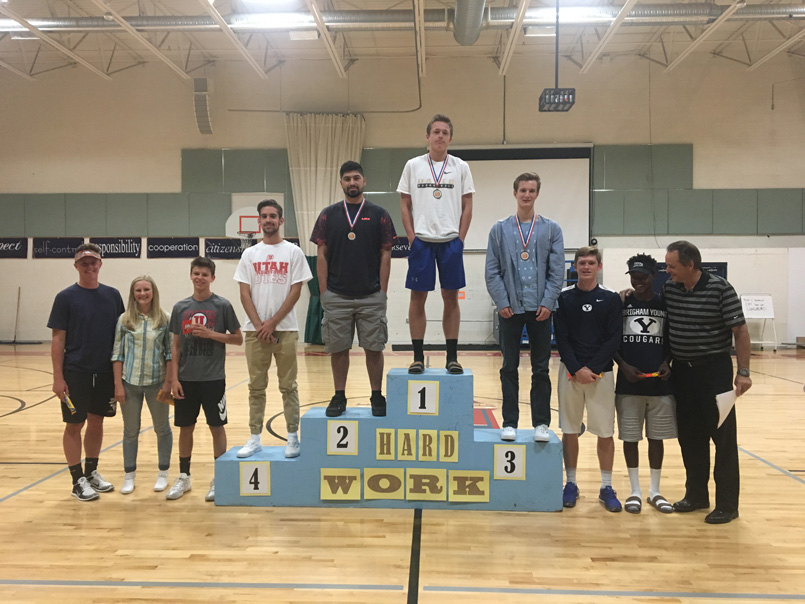 ---
Step Back %
3rd – 8th
1. Landon Wellman 80%
2. Garet Rentmeister 79.75%
3. Andie Thomas 78.5%
4. Tyler Hancock 78.5%
5. Berkley Heileson 78.33%
*6. Collin Chandler 77.75%
*6. Cole Kelley 77.75%
7. Conner Canfield 77.5%
8. Ryan Hunt 76.86%
*9. Kaleb Hotchkiss 75.5%
*9. Lilo Allen 75.5%
10. Hunter Ropelato 74.8%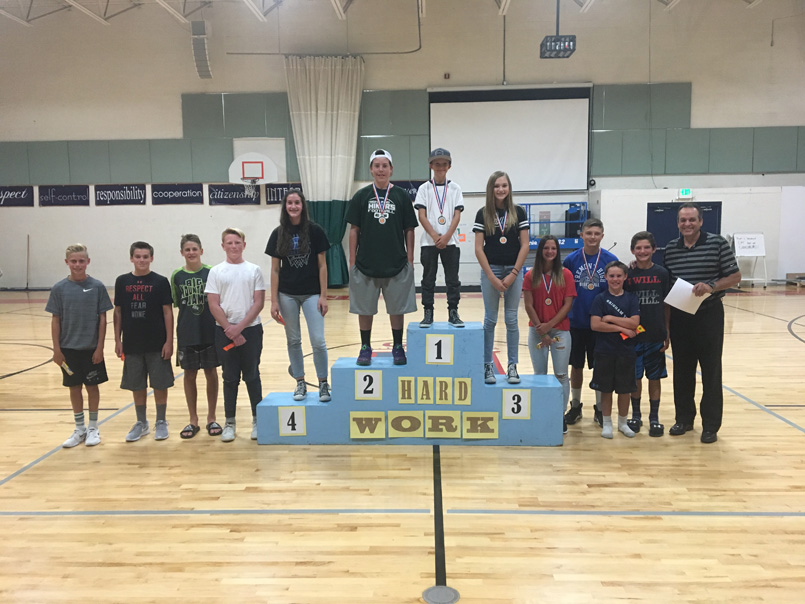 9th – 12th
1. Jake Pincock 87%
2. J.D. Ahlstrom 84%
3. Josh Sanders 83%
4. David Nickerson 80.86%
5. Lisa Blazzard 79.5%
6. Dax Pedersen 78.5%
7. Josh Favila 78.3%
*8. Caden Heaton 77%
*8. Jaci Jensen 77%
*9. Blake Robinson 76.33%
*9. Ethan Bosshardt 76.33%
*10. Ashlyn bingham 74.17%
*10. Nick Jensen 74.17%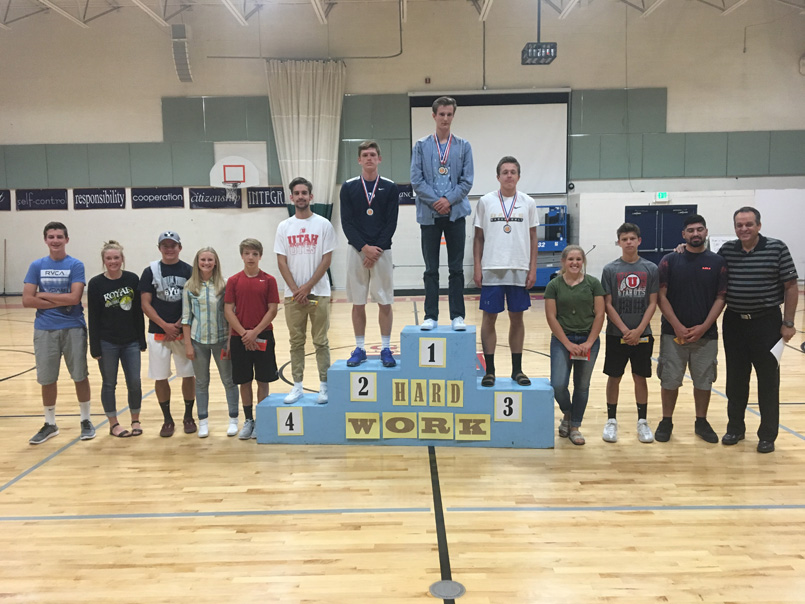 ---
Floater %
3rd – 8th
Landon Wellman 84.4%
Collin Chandler 79%
Berkley Heileson 77.83%
Libby Jensen 74%
Ryan Hunt 73.8%
Will Harris 73.75%
Josh Davis 73.67%
Hunter Ropelato 73.17%
Kaleb Hotchkiss 72.4%
Colton Greenwood 72%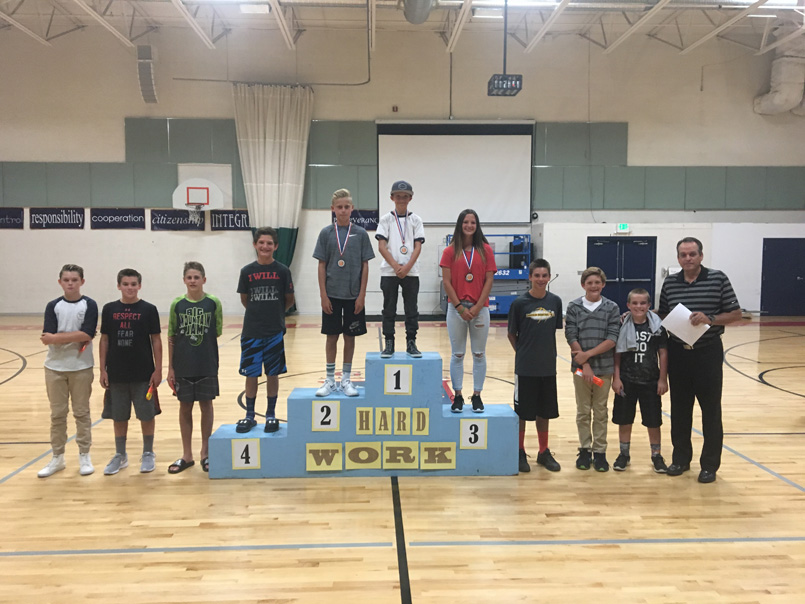 9th – 12th
J.D. Ahlstrom 87.67%
David Nickerson 82%
Drew McCloy 82%
Josh Sanders 81.88%
Jaci Jensen 81%
Sariah Jones 80%
Jake Pincock 79.33%
Caden Heaton 79.2%
Dax Pedersen 76.17%
Ethan Bosshardt 76.17%
Josh Molen 75.17%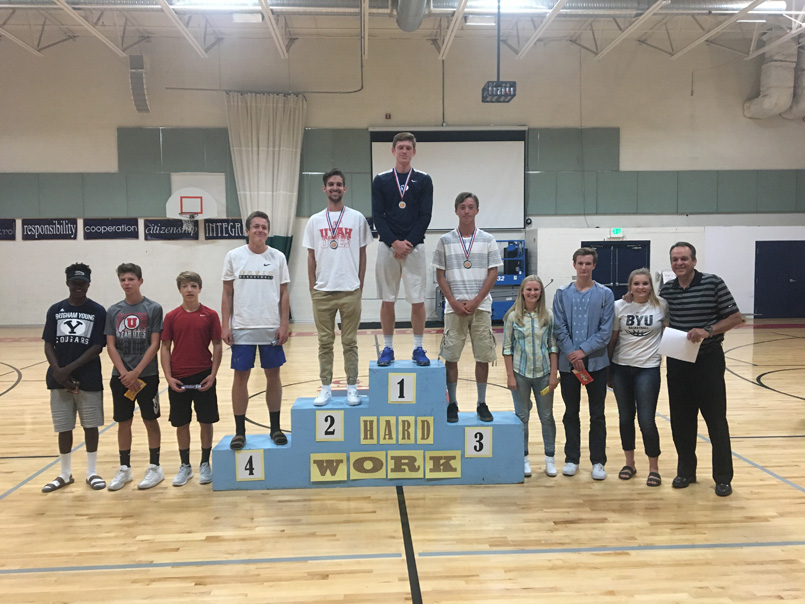 ---
Screen %
3rd – 8th
Taft Miles 82%
Landon Wellman 79.8%
Berkley Heileson 79.5%
Cole Kelley 78.75%
Josh Davis 77.8%
Collin Chandler 77.25%
Hunter Ropelato 76%
Nathaniel Lowe 75.75%
Luke Willden 75.4%
Lilo Allen 75%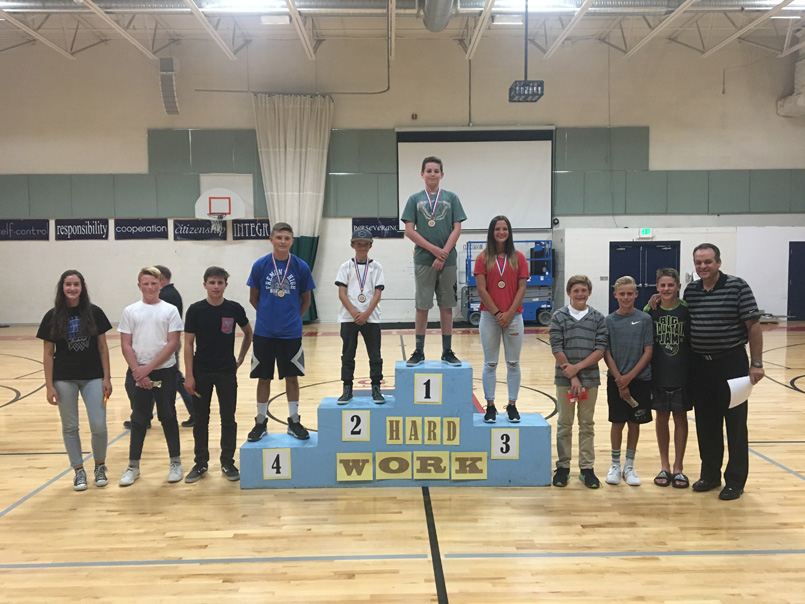 9th – 12th
1. J.D. Ahlstrom 87.6%
2. Mindy Hunt 86%
3. David Nickerson 83.17%
4. Grant Knight 82.33%
5. Caden Heaton 81.17%
6. Ethan Bosshardt 81.14%
*7. Josh Sanders 81%
*7. Lisa Blazzard 81%
8. Jake Pincock 80.67%
9. Josh Favila 80.5%
*10. Sariah Jones 79%
*10. Nick Jensen 79%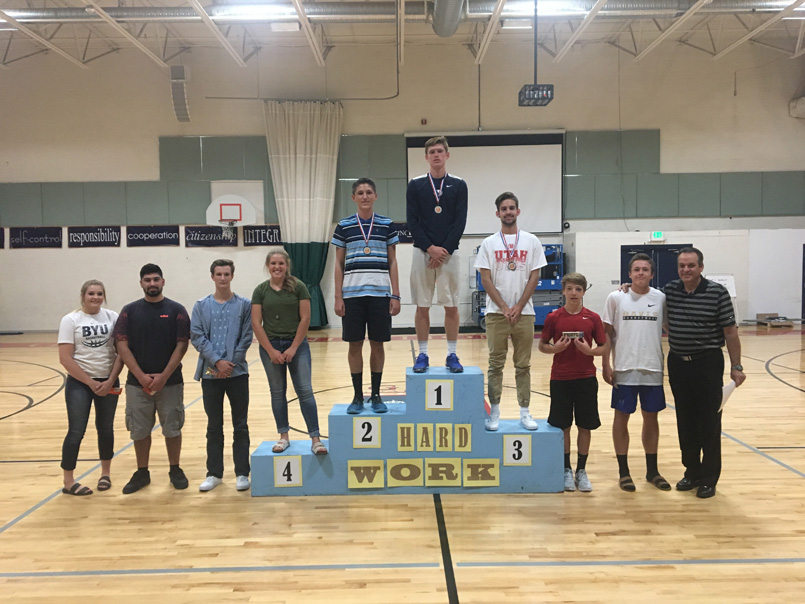 ---
5 minute 3's %
3rd – 8th
1. Landon Wellman 79%
2. Tyler Hancock 71.5%
3. Hunter Ropelato 71.25%
4. Collin Chandler 70.75%
5. Taft Miles 66.83%
6. Cole Kelley 66.67%
7. Garet Rentmeister 60.5%
*8. Levi Rentmeister 59.25%
*8. Colton Greenwood 59.25%
9. Libby Jensen 58%
10. Nathaniel Lowe 57.33%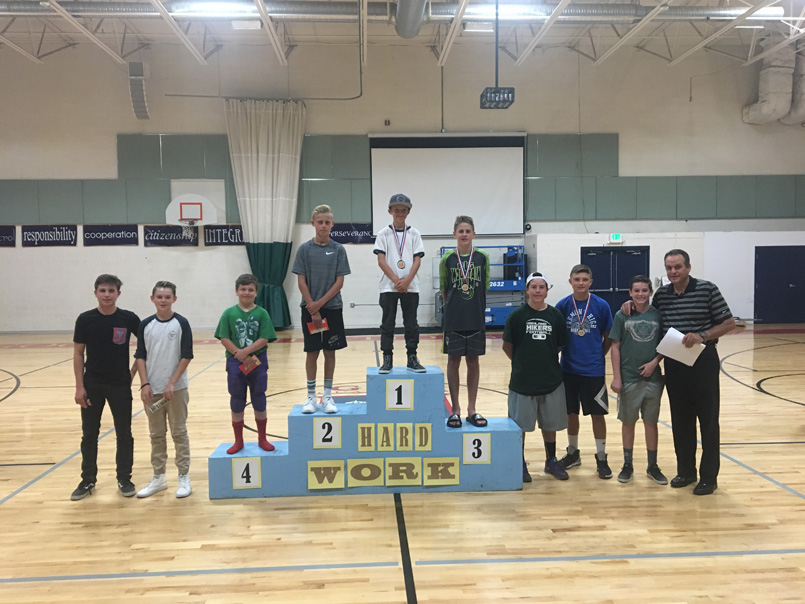 9th – 12th
1. David Nickerson 81.83%
2. Lisa Blazzard 80%
3. J.D. Ahlstrom 78.25%
4. Josh Sanders 76.6%
5. Josh Favila 71.5%
*6. Jake Pincock 71%
*6. Sariah Jones 71%
7. Ethan Bosshardt 65.17%
8. Caden Heaton 65%
9. Blake Robinson 64.25%
10. Josh Molen 63.83%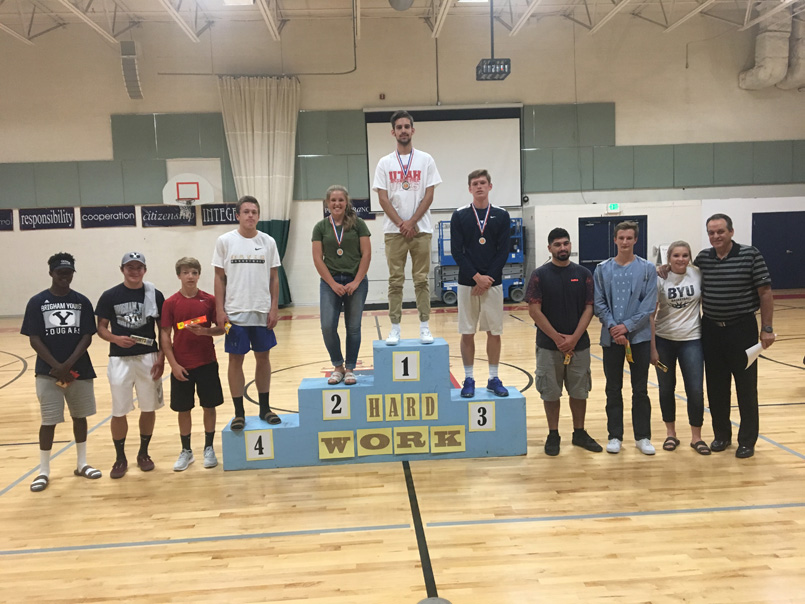 ---
Complete Shooter 50%
3rd – 8th
1. Landon Wellman 75%
2. Tyler Hancock 67%
3. Levi Rentmeister 65.5%
4. Garet Rentmeister 62%
*5. Collin Chandler 61.2%
*5. Taft Miles 61.2
6. Cole Kelley 60.5%
7. Nathaniel Lowe 59.5%
8. Colton Greenwood 59.5%
9. Hunter Ropelato 59.4%
10. Will Harris 58.4%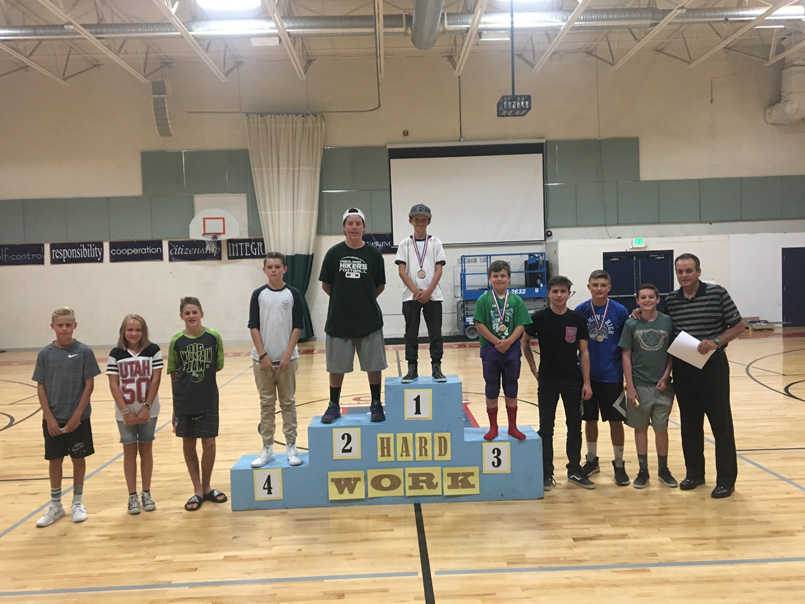 9th – 12th
1. Josh Sanders 81.4%
2. David Nickerson 80%
3. J.D. Ahlstrom 79.25
4. Blake Robinson 78.67%
5. Caden Heaton 76.5%
6. Jaci Jensen 74.60%
*7. Mindy Hunt 70%
*7. Jake Pincock 70%
8. Ethan Bosshardt 67%
*9. Sariah Jones 66%
*9. Lisa Blazzard 66%
10. Jonah Nielsen 65%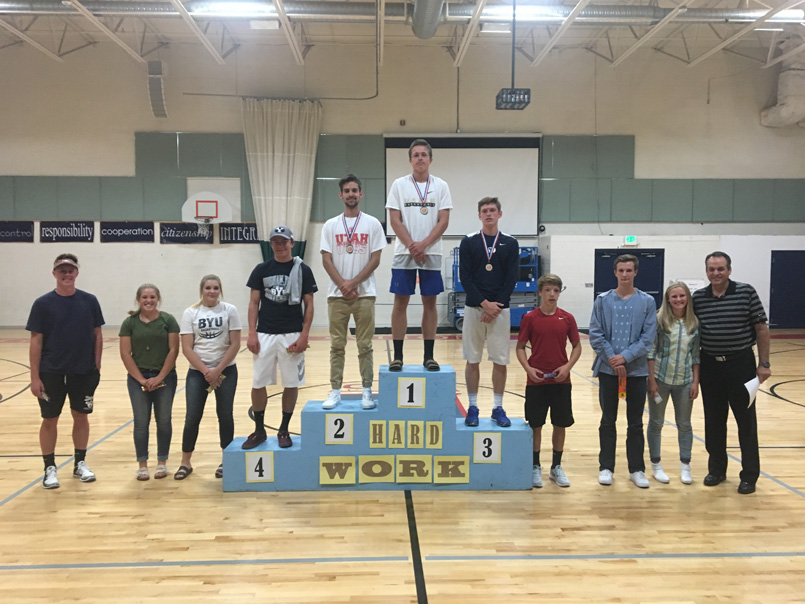 ---
Cradle %
3rd – 8th
Hunter Ropelato 70.2%
Corbin Canfield 66.5%
Max Jarnagin 64.2%
Collin Chandler 63.67%
Garet Rentmeister 63.25%
Landon Wellman 63.2%
Cole Kelley 63%
Taft Miles 62.4%
Conner Canfield 60%
Libby Jensen 59%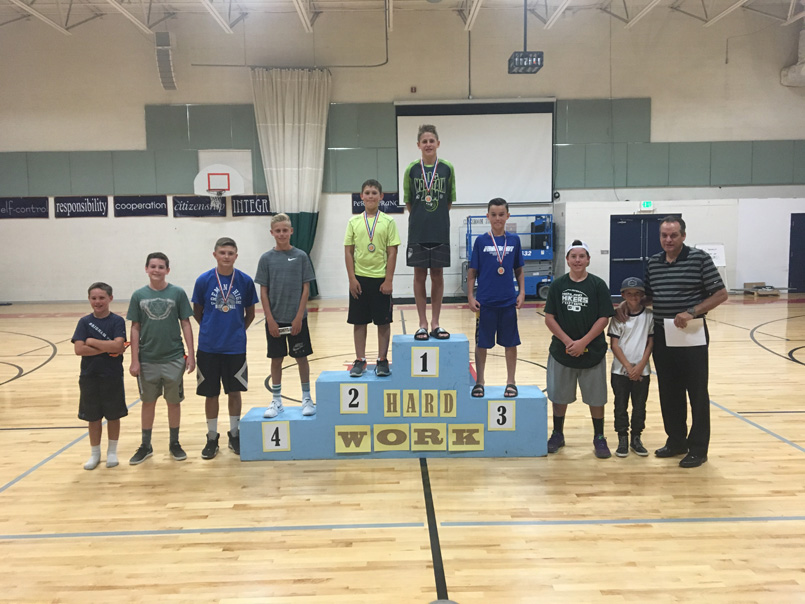 9th – 12th
David Nickerson 85.33%
Josh Sanders 78.5%
J.D. Ahlstrom 78.17%
Blake Robinson 74.67%
Jake Pincock 73.67%
Caden Heaton 71%
Jaci Jensen 69.8%
Lisa Blazzard 69.5%
Sariah Jones 65%
Jonah Nielsen 64.2%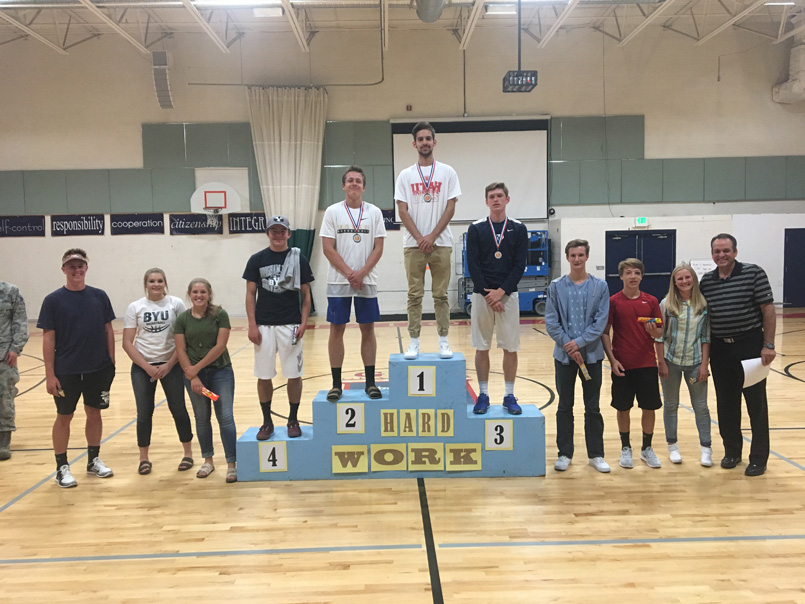 ---
License %
3rd – 8th
Corbin Canfield 63%
Landon Wellman 62.6%
Tyler Hancock 60.4%
Collin Chandler 59.75%
Cole Kelley 55.8%
Will Harris 55.57%
Max Jarnagin 54.6%
Luke Willden 53.67%
Levi Rentmeister 53.29%
Berkley Heileson 53.20%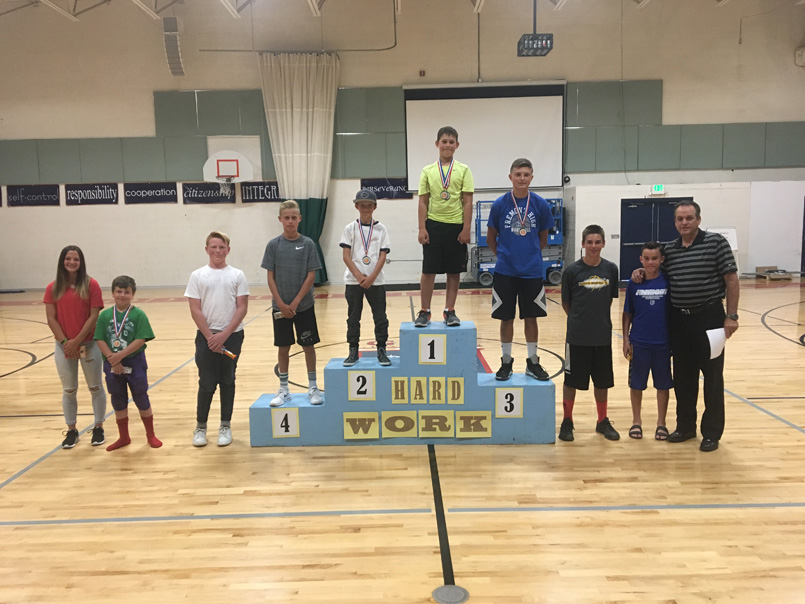 9th – 12th
J.D. Ahlstrom 77.2%
Jake Pincock 74%
Josh Sanders 73.67%
David Nickerson 72.86%
Josh Favila 67%
Caden Heaton 65.43%
Blake Robinson 64.2%
Mindy Hunt 63%
Jaci Jensen 61%
Grant Knight 59.67%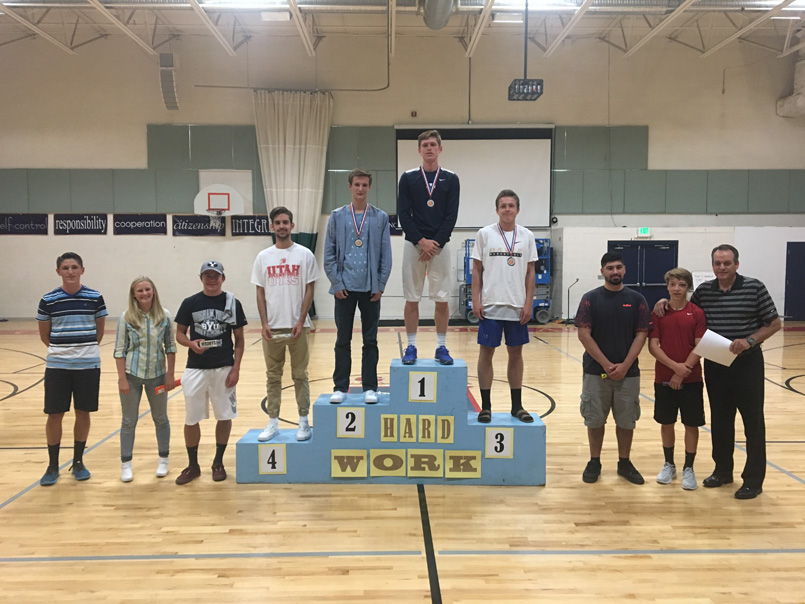 ---
Finisher
3rd – 8th
1. Landon Wellman 25.2
2. Max Jarnagin 24.23
3. Berkley Heileson 23.08
4. Collin Chandler 23
*5. Skylee Boudreau 21.69
*5. Colton Greenwood 21.69
6. Nathaniel Lowe 21.53
7. Tyler Hancock 21.25
8. Will Harris 21.23
9. Amelia Jarnagin 20.89%
10. Levi Rentmeister 20.78%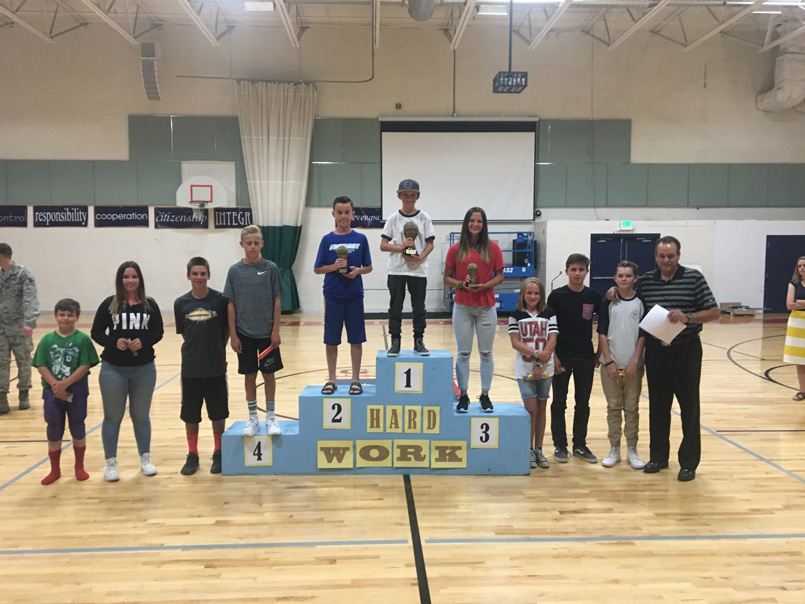 9th – 12th
Josh Sanders 26.88
David Nickerson 26.68
J.D. Ahlstrom 26.52
Grant Knight 24.83
Caden Heaton 23.95
Jake Pincock 23.77
Ethan Bosshardt 23.5
Josh Molen 23.03
Jaci Jensen 22.65
Sariah Jones 22.56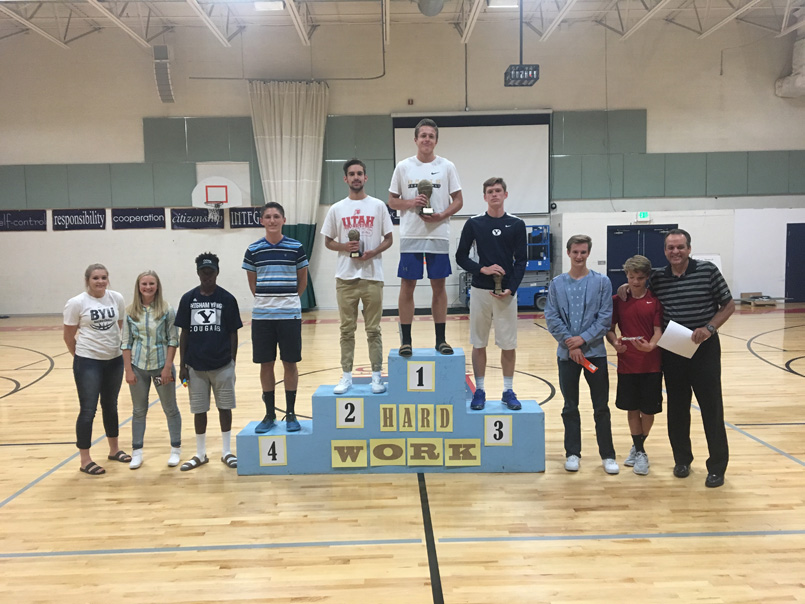 ---
Overall %
3rd – 8th
Landon Wellman 78.85%
Collin Chandler 75.64%
Tyler Hancock 75%
Hunter Ropelato 74.44%
Colton Greenwood 74.44
Cole Kelley 73.47%
Nathaniel Lowe 73.06%
Will Harris 72.58%
Berkley Heileson 72.17%
Taft Miles 71.43%
Garet Rentmeister 69.71%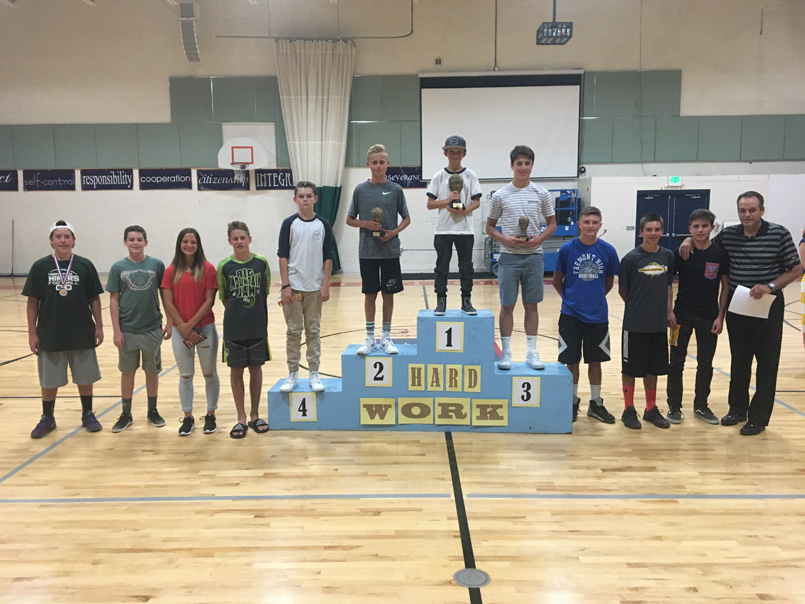 9th – 12th
J.D. Ahlstrom 86.32%
Josh Sanders 84.82%
David Nickerson 83.99%
Jake Pincock 82.58%
Blake Robinson 79.45%
Lisa Blazzard 79.32%
Caden Heaton 79.18%
Jaci Jensen 78.25%
Sariah Jones 76%
Mindy Hunt 75.82%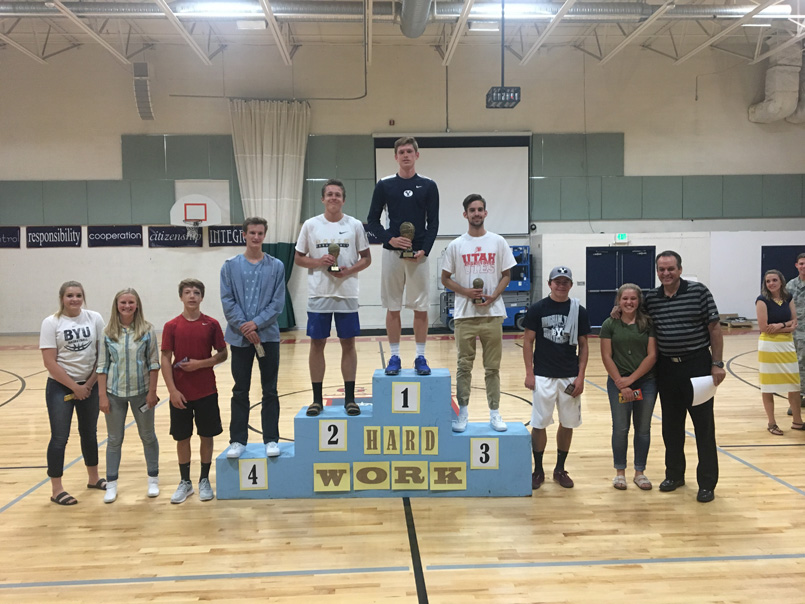 ---
Overall Points
3rd – 8th
Landon Wellman 104
Collin Chandler 98.6
Tyler Hancock 96.2
Berkley Heileson 95.38
Hunter Ropelato 95.15
Cole Kelley 94.9
Nathaniel Lowe 94.6
Max Jarnagin 93.8
Will Harris 93.5
Colton Greenwood 93.4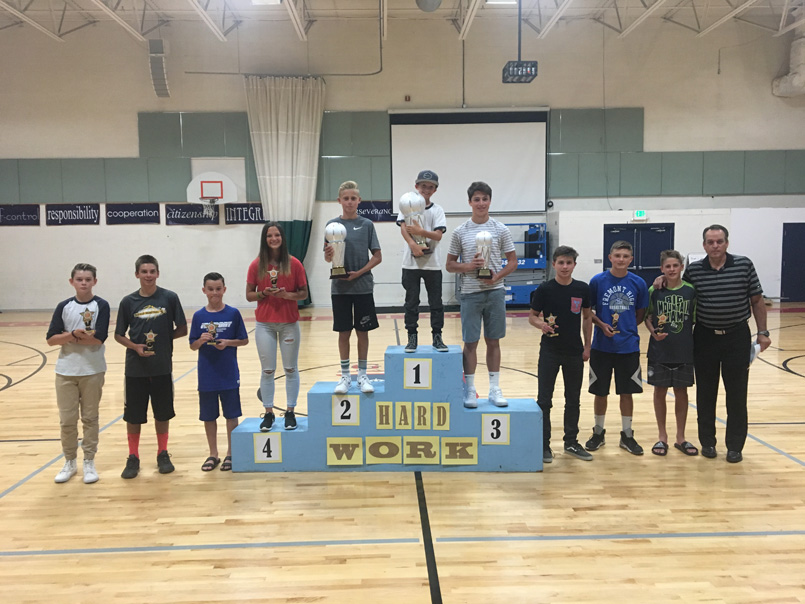 9th – 12th
J.D. Ahlstrom 112.84
Josh Sanders 111.79
David Nickerson 110.42
Jake Pincock 106
Caden Heaton 103.13
Lisa Blazzard 102.59
Jaci Jensen 100.91
Blake Robinson 100.90
Grant Knight 100.55
Ethan Bosshardt 99.25